Kenya Malinke Mansaray is a native Chicagoan, of Gullah Geechee heritage that has resided in Sierra Leone, West Africa since 2015 where she serves as the Chairperson for the Gullah Redemption Mission Sierra Leone, and manages a licensed tour company.
Growing up in Rockwell Gardens housing projects, on Chicago's west side is where she was first exposed to community volunteerism in her adolescence with family and friends that took part in community cleanings, and remained an advocate for the underrepresented throughout her life.
Kenya has a considerable background in journalism and mass communications as the executive producer for an all women's empowerment focused radio network. She produced and co-hosted a number of lineup's including a weekly health centered program called "Food For Medicine" along with a naturopathic doctor to promote traditional health and wellness through herbalism and using food as medicine.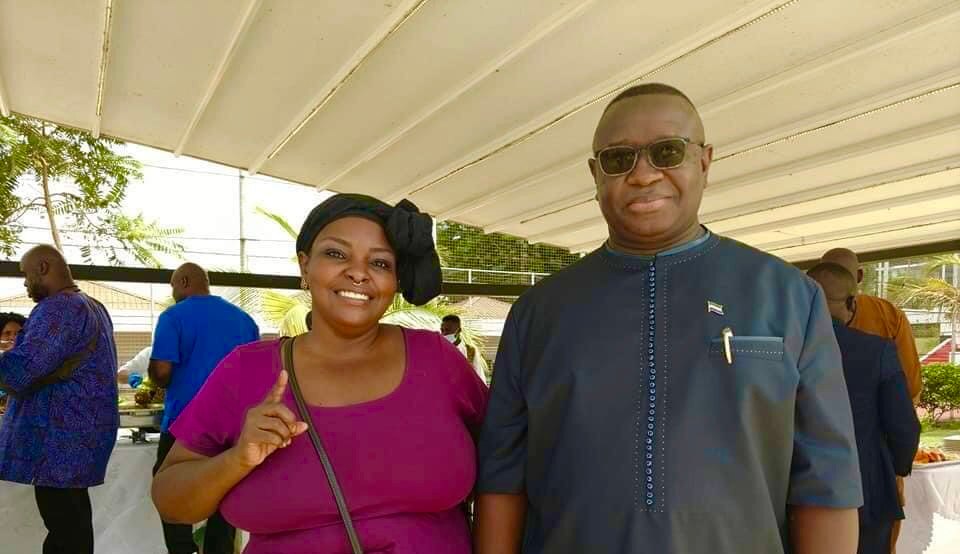 Our Founder with the President of Sierra Leone, Julius Maada Bio
As a social entrepreneur, activist and community organizer by professional occupation, she is devoted to the unity and upliftment of African people.
In addition to serving as the President of the UNIA-ACL Gullahdugu Division #232 based in Freetown, Sierra Leone, she also serves as President of the Black Star Action Network International (BSANI); an international Pan African movement promoting grassroots community building around the world through collaborative campaigns, programs and projects.
Valuing sisterhood and community collectivism to solve common issues is what inspired her to establish the African Women's Empowerment Network (AWEN), in 2019, which is an auxiliary organization within BSANI.
AWEN is a global African women's association, and social support network that focuses on the solidarity and upliftment of African women, internationally.
Besides operating in the nonprofit sector, she also co-owns Gullahdugu Services LLC with her husband. Together they team up to provide clients with a wide range of services which includes but are not limited to consultancy, business management, project implementation, and assisting the African Diasporans with business setup, travel/tourism, and relocation services to Sierra Leone.
Kenya envisions sustainable initiatives to combat food insecurity, improve health care facilities, and provide educational resources for families in underprivileged communities around the world.
Founder
Kenya Malinke Mansaray
"As women, we are the bedrock of society, and if our relationship with one another is not built on a foundation of love, respect and unity, the community as a whole suffers. The advancement of our nation is only measured by the progress of its women. We are sister's first and foremost, and do not view one another as competition. As sister's we are on the same team, working on the same mission to achieve common goals. If "I WIN, YOU WIN"!
  – Kenya Malinke Mansaray – AWEN's Founder